Conferences and Didactic Sessions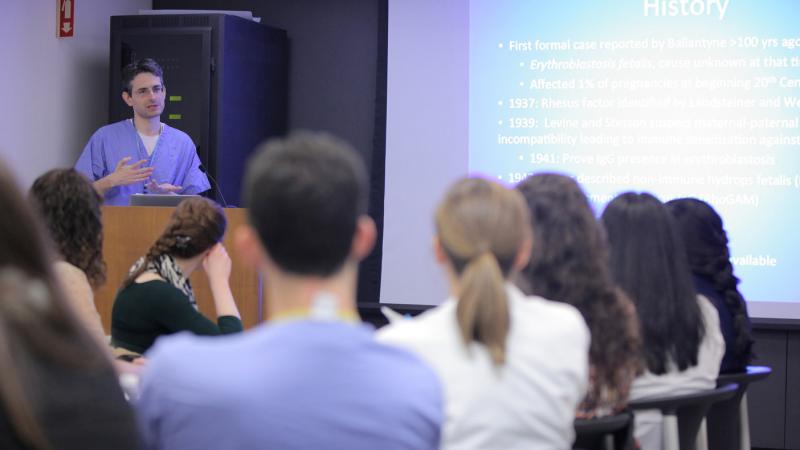 Morbidity and Mortality (M&M) Conference
Thursday is the academic day for the entire Department of Obstetrics and Gynecology. The day begins with the M&M conference, in which interesting cases from each service are presented by members of the house staff and are followed by lively and thoughtful discussion from the faculty and other members of the department.
Grand Rounds
Weekly Grand Rounds follow the M&M conference and feature presentations from within our faculty as well as many distinguished visiting guest speakers. Each second and fourth-year resident is also required to give one Grand Rounds presentation each year, and these talks are often the highlight of the morning session.
Resident Didactic Lecture Series
A core Resident Didactic Lecture Series supplements the experience gained on clinical rotations to round out the comprehensive post-graduate curriculum. Residents attend this weekly lecture series every Thursday morning following Grand Rounds.
Fetal Heart Rate (FHR) Tracing Rounds
FHR Tracing Rounds are conducted on Tuesdays at Board Turnover on Labor & Delivery.
Prenatal Pediatrics Conference
A Prenatal Pediatrics Conference is held weekly. Complex high-risk pregnancies involving issues such as fetal anomalies, congenital heart defects, and genetic syndromes are discussed in a multidisciplinary setting with colleagues from neonatology, pediatric surgery, Aanesthesia, and other relevant specialties.
Gynecology Conference
A TGIF conference is held every Friday morning. Preoperative cases are discussed with supervising faculty, and often an ACOG practice bulletin or a review of the recent literature on a particular gynecologic topic is presented by a resident with discussion facilitated by a rotating faculty preceptor.
Obstetrics Journal Club
An OB Journal Club is held every month, with the presentation of an interesting paper by a member of the house staff and a critical discussion and review of the topic led by an Maternal Fetal Medicine fellow or faculty member.