Columbia faculty and fellows present at SGS 2022 Annual Meeting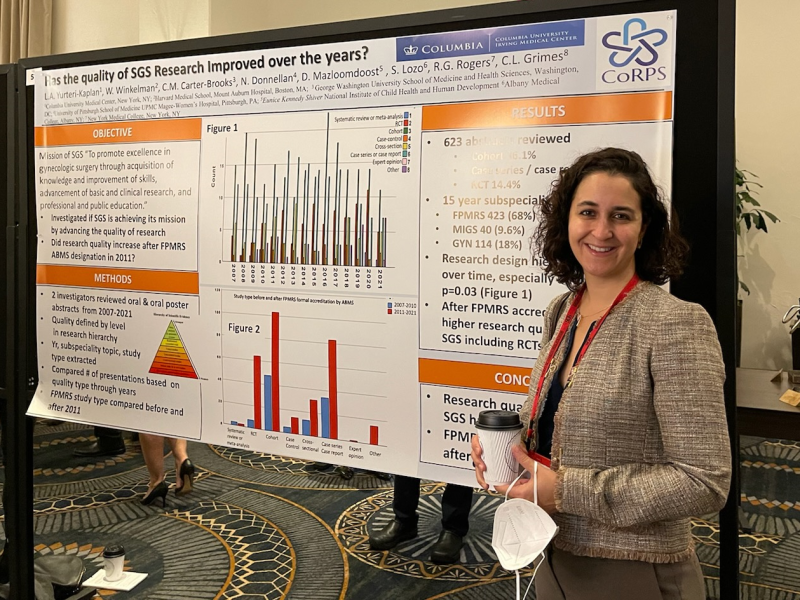 Faculty, fellows, residents, and medical students from Columbia University presented at the 48th Annual Scientific Meeting for the Society of Gynecologic Surgeons, which took place from March 27-30, 2022.
All of the Columbia-affiliated scientific presentations featured at the meeting are displayed below. 
Courses
Multiple Modalities of Myomectomy - Live and Virtual
Sunday, March 27, 2022 | 1:00 pm - 5:00 pm CT
Course Director: Matthew T. Siedhoff, MD
Course Faculty: Arnold P. Advincula, MD, Hye-Chun Hur, MD, Mireille D. Truong, MD, Kelly N. Wright, MD
This course provides a comprehensive review of the principles and techniques of various modalities of uterine-preserving myomectomy for fibroids. Faculty will use video extensively to illustrate techniques that allow successful outcomes.
For centuries, the "preferred" surgery for women with these benign growths has been the removal of the entire organ (i.e., hysterectomy). But the reasons for that preference—that hysterectomy is safer and a better operation—will be questioned by a review of the medical literature. The course will demonstrate, with high-quality evidence and video presentation, including all modalities of minimally invasive myomectomy--hysteroscopy, laparoscopy, robotic-assisted, and laparotomy. We will also demonstrate appropriate workup to optimize patients for the OR and discuss how to counsel and manage these women postoperatively.
Videofest
Robotic-Assisted Laparoscopic Excision of a Large Cesarean Scar Pregnancy. Sierra Seaman, MD; Briana Baxter, MD; Jeannie Kim, MD.
Oral Presentation
Impact of Pneumoperitoneum Pressure During Laparoscopic Hysterectomy: A Randomized Controlled Trial. R. B. Smith; E. A. Biller; C. Hu; N. Mahnert; A. Stone; S. Galhotra; J. Mourad. DISCUSSANT: Ladin Yurteri-Kaplan, MD
Poster Presentations
Has the Quality of SGS Research Improved Over the Years? Ladin Yurteri-Kaplan, MD;  Svjetlana Lozo, MD.
Cine Magnetic Resonance Imaging of the Uterus for Evaluation of Abnormal Uterine Bleeding. Shai Bejerano.