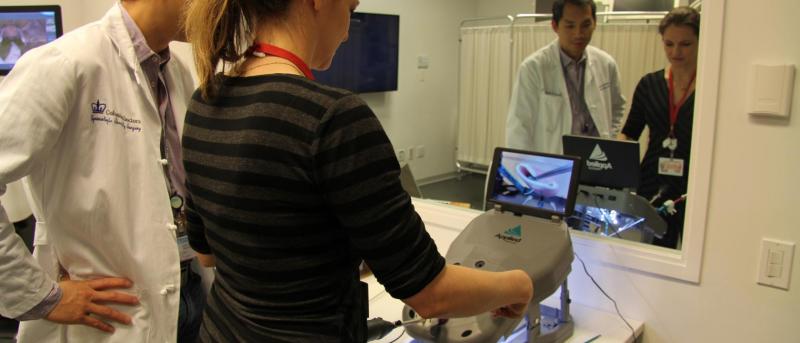 Sloane Olympics Moves to Vagelos Education Center
Residents in the Department of Obstetrics and Gynecology saw a major upgrade in their yearly evaluation exams, nicknamed the Sloane Olympics. The 2017 Sloane Olympics were held in the new Roy and Diana Vagelos Education Center, where residents had the opportunity to test their skills using the state-of-the-art resources available in the Mary and Michael Jaharis Simulation Center (SIM Center).
Developed in 2008 by Vice Chair of Education Dr. Rini Ratan, MD, the Sloane Olympics is an annual event consisting of individual stations with both low- and high-fidelity simulation models. Residents in all four years participate, and each station has educational objectives that align with rotations in the curriculum. The Sloane Olympics give residents the opportunity to practice procedures on simulation models while receiving valuable feedback from core faculty and division chiefs, who oversee the stations during the evaluations. Residents don't receive grades on their performance, as they are intended as a learning experience to evaluate their progress.
This year marked a major milestone in the Sloane Olympics, as this was the first year they were held in the SIM Center. Located on several different floors throughout the Vagelos Education Center, the SIM Center is a major training resource that integrates a standardized patient program, mannequin-based simulations, and procedural skills training. Opened in 2016, the SIM Center reflects a recent shift in medical education that emphasizes practical, hands-on experience over study and observation.
Previous years of the Sloane Olympics involved a simulation component, but were held in office spaces and conference rooms in NewYork-Presbyterian Hospital. The SIM Center provides a full recreation of a hospital setting for education purposes, including auditory and visual details to complete the immersive experience. Holding the exams in the space gives the residents the opportunity to have a fully immersive exam that more closely recreates the environment and conditions of a clinical procedure with a live patient.
The SIM Center has tools, models, and set ups tailored to many different disciplines. For Ob/Gyn education, the SIM Center houses the SimMom, a birthing simulator representing a full-term pregnant adult woman, which allows students to practice diagnosis and treatment of the mother and fetus during the birth process. SimMom responds to clinical intervention, instructor control, and pre-programmed scenarios, and allows for the observation of both maternal and fetal vital signs. Instructors can simulate various types of deliveries by positioning the SimMom and baby in different positions. SimMom can be used to teach skills such as airway management, CPR, heart and lung sound auscultation, and blood pressure auscultation.