Division of Maternal Fetal Medicine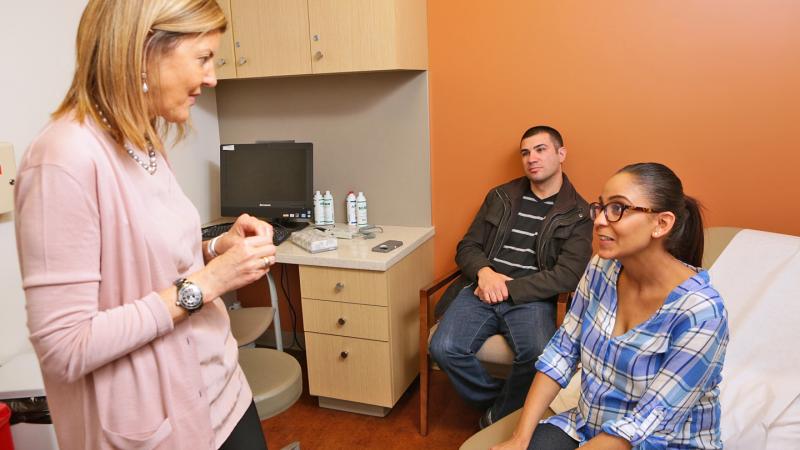 The Division of Maternal-Fetal Medicine is dedicated to providing the highest quality care to expectant mothers with high-risk health conditions, fetal abnormalities, or obstetric complications. Our team of leading MFM specialists, clinical nurses, and genetic counselors manages high-risk pregnancies for women with serious medical diseases or critical care issues, or whose pregnancies are complicated by fetal structural, functional, or genetic abnormalities.
Patient Care
MFM occupies a specialized section within Sloane Hospital for Women, an innovative institution that has been caring for women for more than a century, where our patients benefit from the resources of a specialized hospital for mothers. We coordinate our services with international experts in many treatment areas: cardiology, genetics, reproductive endocrinology, and psychiatry. Our MFM specialists partner with NewYork-Presbyterian/Morgan Stanley Children's Hospital which allows us to offer specialized resources for babies, including neonatology, pediatrics, pediatric surgery and pediatric cardiology. This collaboration enables our MFM experts to offer every possible diagnostic and therapeutic option for mothers and babies.
Physicians in the division have developed particular expertise in managing multiple pregnancies, from identical twin gestations complicated by malformations, to discordant growth and twin-twin transfusion syndrome. Our MFM specialists pioneered in-utero fetal procedures to treat some of these conditions, using radiofrequency ablation, fetal blood transfusion, and shunt procedures to drain abnormal fluid collections or an obstructed fetal bladder. 
In addition to the care provided by our MFM specialists at centers throughout the greater New York metropolitan area, we have several centers dedicated to caring for high-risk pregnancy:
Center for Prenatal Pediatrics provides comprehensive care for patients with multiple fetuses or whose pregnancies are affected by fetal complications.
The Mothers Center coordinates care for patients with maternal complications, including hypertension, diabetes, cardiac disease, seizure disorders and thyroid disease.
Preterm Birth Prevention Center provides personalized medical care for women at high risk for premature birth.
Regional Perinatal Center
The State of New York has designated the division as a Regional Perinatal Center, the highest hospital classification level. In awarding this status, the state affirms that our expertise, treatments, and skills enable us to accept and care for the most difficult and highest-risk cases.
Education
The division's educational programs are carefully integrated within its clinical activities. Division faculty train medical students, residents, and fellows to manage high-risk pregnancies within a carefully supervised environment. The Maternal-Fetal Medicine Fellowship provides superior training, opportunities in cutting-edge research, and hands-on experience, attracting the top residents and fellows from around the country.
Research
As one of 14 of the nation's premier perinatal centers participating in the National Institute of Child Health and Human Development Maternal-Fetal Medicine Units Network, Columbia University Irving Medical Center develops and performs large multi-centered clinical trials in perinatal research, with special emphasis on developing strategies for the prevention of preterm birth. This project represents the most prestigious investigative group in obstetrics in the United States and has led to discoveries that have changed clinical protocols throughout the country. The MFM division is a participant in the NIH-sponsored study to develop a national ethnic- and race-specific standard for ultrasound determined fetal growth in both singletons and twins. In addition CUIMC is one of 8 centers participating in the NICHD study determining predictors of poor pregnancy outcomes in nulliparous women. This study will recruit over 10,000 such patients. The division has strong collaborative research with other schools and departments including the Mailman School of Public Health, Medical Genetics, and Pediatrics. In collaboration with the School of Engineering and the Department of Pathology, the division has established a unique multidisciplinary team studying the role of the cervix in preterm birth.